Web Server System Power Supply 4E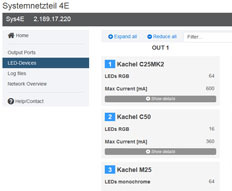 In connection with the Generation 3
updates, the System Power Supply 4E
got a new, very helpful feature — its
own web server.

All network settings can now be made
comfortably at your computer via the
web interface. What's more, it
delivers countless additional
information about the system and the
connected products. For example, it
can provide an overview of the entire
network with all power supplies. With
the menu, you can navigate from
power supply to power supply. The
filter function blends out information
that is not needed which means the
web interface is remains clear.
Luminale 2014 – Project "Lichtklang"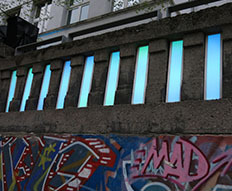 The project Lichtklang, or LightSound,
was launched at this year's Luminale
Light Festival in Frankfurt that was on
from 30 March to 4 April 2014.
Commissioned by VOSS&FISCHER,
60 LED light boxes were set up in
different areas on the school grounds
of the Helmholzschule on Frankfurt' s
east side.

The installation's color and light
changes responded to the sound and
rhythms from songs. The melodies
became visible and the sound of the
instruments was captured within the
premises.

>> Find out more
Deutschland sucht den Superstar
On Saturday March 29, the top 12
candidates from "Deutschland sucht
den Superstar" (Pop Idol) kicked off
the show's Live Challenges. This year's
set is once again designed with LED-
Strips from Schnick-Schnack-Systems
and more than 600 additional new
strips have been installed in this
season's set design.


>> Watch the video

>> Read more about the project