| | |
| --- | --- |
| | |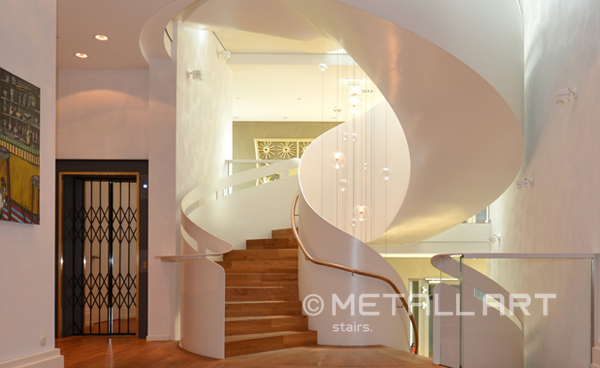 Dear $$anrede$$ $$last name$$,


The largest international construction fair in the Middle East region will be opening its doors from 26. - 29. November: The Big 5 International Building & Construction Show in Dubai. The exhibition has existed since 38 years and focusses amongst others on interior design and steel.

Once again MetallArt will take part in the Big 5 in Dubai

For the second time running the staircase manufacturer based in Germany is going to present the various options for steel stairs and glass railings at stand Z2, Q127.

Folded stairs at Hotel LAMAISON in Saarlouis

To give an example of our work we want to present you today the steel stairs with flamboyant parapet railings situated in the historical villa of the former Supreme Administrative Court in Saarlouis. Due to our design stairs made of steel the four-star superior hotel LAMAISON, which is meanwhile located in the ancient building, has got an extraordinary flair.

Have we aroused your curiosity?
We hope you will enjoy reading this edition!

Your Team of MetallArt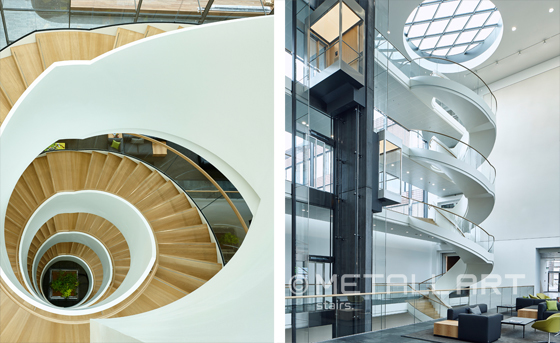 On an exhibition space of about 90.000 m² there are 2.500 companies from nearly 60 countries showing their product innovations. We are a premium manufacturer for

individual staircases for public and private buildings

and are based near Stuttgart. Together with 16 companies we are going to present our service portfolio at the Baden-Württemberg joint stand in Zabeel Hall 2 at stand Q127.



Design in steel for modern staircase construction



"This year we are looking forward again to showing our representative steel stairs and glass railings to the visitors. Especially for this years Big 5 show we designed an exhibit featuring a

curved and filigree glass railing

and an underside soffit made of steel. We are sure that it will captivate and inspire the Arab visitors" says Johannes Schmid, managing director of MetallArt. The core competences of the company are amongst others three-dimensionally bent stair parts. Using the latest manufacturing technologies the experts of MetallArt realise

steel stairs, combined with glass, wood or stainless steel

(high-gloss polished or brushed).

Should you be interested in appointing our experts during the exhibition please get in touch with:

Mourad Radi
E-Mail:

mourad.radi@metallart-gmbh.de


Phone: +49 (0)7162 93200-54

Onur Akardere
E-Mail:

onur.akardere@metallart-gmbh.de


Phone: +49 (0)7162 93200-14

We are looking forward to your visit!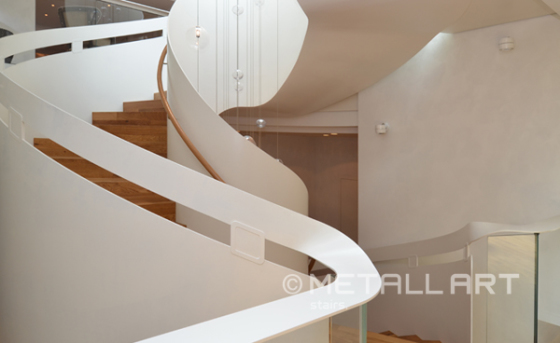 The stylish steel staircase with its striking look is part of the elegant interior design of the four-star superior hotel LAMAISON in Saarlouis. With its evenly rounded six-flight stair ground, designed with an diameter of approx. 4,050 mm the construction is an attraction in itself.



Steel stairs with precious wooden cover



The combination of parapet-high stringers, lacquered in modern white, and folded steps with premium wooden cover contrasts in an harmonious way. This staircase construction convincingly completes the interior design of the hotel. Above all, in the light-flooded foyer the steel stairs captivate with their aesthetic underside soffit lining made of smooth-faced steel sheet and their sculptural look. The vibration behaviour of the staircase with its self-supporting structure between the stair landings, is significantly improved by the underside cladding.



Focusing the parapet-high steel balustrade



The openings in sections in the upper part of the balustrade stringers produce an optical belt. It is connected to the bottom railing just in the distances which are structurally required. These connections between the openings were finished with ornaments designed as rhombic frames. Matching the wooden cover of the treads the profile shaped handrail along the inner steel balustrade stringer consists of European oak.


You can find further information on this project here!
MetallArt Metallbau Schmid GmbH | Hauffstraße 40 | D-73084 Salach
T+49 (0) 7162 93200-0 | info(at)metallart-gmbh(dot)de
Represented by the directors Johannes Schmid and Susanne Bücher. Company domiciled in Göppingen.
Register Court Ulm HRB 532447. Tax number 63002/11556 | Sales tax identifications number: DE 175336745
If you don't want to receive further MetallArt news in future, you can unsubscribe the sending here.